Major diamond drilling campaigns are continuing within the Coyote Gold Project targeting additions to known Mineral Resources and testing advanced exploration targets.
COYOTE GOLD MINE - UNDERGROUND
The Company's geologists, combined with a respected structural consultant, successfully progressed the conceptual Coyote exploration model with recent drilling continuing to add significant geological detail to the model.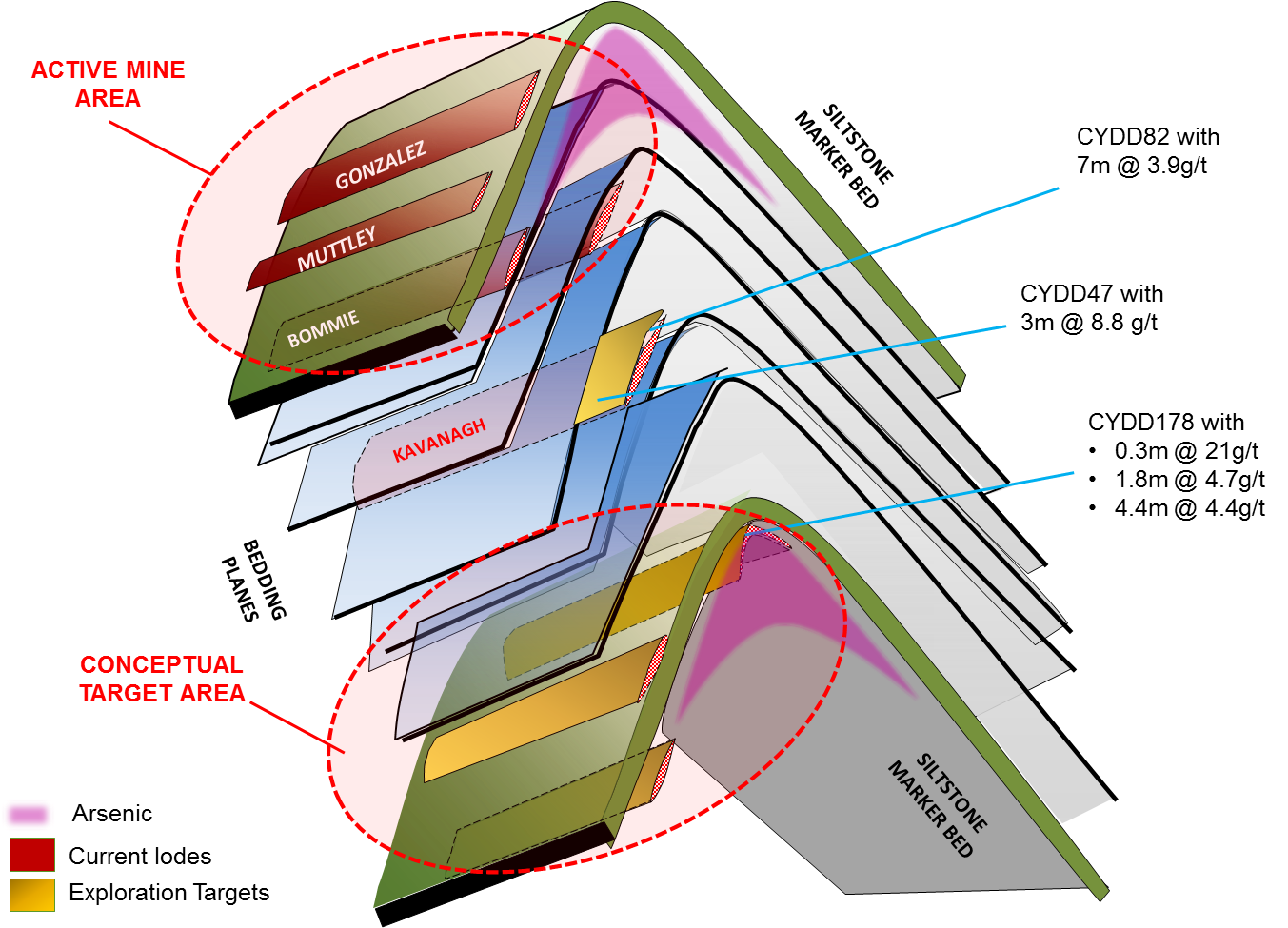 The recent review has also confirmed the relationship between a thick carbonaeous siltstone unit and arsenic distribution, with the siltstone working as a geochemical trap and a key control on gold mineralisation.
The recent change in the interpretation of the Coyote exploration model is highly significant as it has elevated the prospectivity of several untested targets located deeper within the Coyote Anticline previously considered less prospective due to the distance from the Coyote Fault.
The Kavanagh Exploration Target Area is situated approximately 150 metres north of the main Coyote Gold Mine and is interpreted to be a folded repeat of the geological sequence (or similar) that hosts the Coyote Gold Mine. It is considered highly prospective with the potential to host a repeat of the entire Coyote mineralised system.
Results continue to confirm the presence of significant gold mineralisation within multiple horizons in the Kavanagh Exploration Target Area. Further results have been received from the eastern side. Mineralisation is now defined over a length of 650 metres down plunge and remains open in multiple diretions.
Significant results received to date from the Kavanagh Lodes has returned exceptional high grade mineralisation including:
CYDD211B - 6.1m @ 87.4g/t Au
CYDD211B - 0.3m @ 367.6g/t Au
CYDD208 - 2.0m @ 81.7g/t Au
CYDD207 - 0.7m @ 52.4g/t Au
CYDD207 - 0.5m @ 39.0g/t Au
SURFACE EXPLORATION
The 2011 aircore drilling campaign was completed with 172 holes for a total of 4,672 metres drilled.
Sandpiper
At Sandpiper, initial drilling was planned to test the deposit at depth with a view to establishing a Resource suitable for an underground mining operation. The surface diamond core (DC) drilling of 14 holes for 5,463 metres has identified four parallel mineralised lodes and delineated a further 65,000 ounces of Indicated and Inferred Resources through intersecting mineralisation over 400 metres down-plunge from the base of the open pit. All four lodes remain open at depth and along strike.
Two DC holes targeting down plunge extensions of the Sandpiper mineralisation have been completed. SPDD 15 and SPDD16 were drilled beneath SPDD14 that intersected four strongly mineralised lodes. SPDD16, the deepest intersection within the Sandpiper system, intersected 2.7 metres grading 5.7g/t Au from 355.8 metres demonstrating the mineralisation remains open at depth.
SPDD17A tested the down plunge component to the mineralisation in a step out of approximately 100 metres to the east of known drilling and intersected multiple parallel lodes returning 2.2 metres @ 6.6g/t Au from 316 metres and 4.1 metres @ 3.3g/t Au from 320.9 metres.
Kookaburra
Two diamond holes were completed at Kookaburra for metallurgical sampling and mine planning purposes as part of the Kookaburra pit expansion feasibility study. These holes targeted fresh mineralisation within the northern limb and hinge zone of the Kookaburra syncline.
The best intersection returned 39.9 metres @ 5.0 g/t Au from KBDD1. Although drilled in part sub parallel to the dip of the mineralisation, the tenor of the intersections confirms the Kookaburra mineralisation has a number of discrete high grade zones within the system.
Hutch's Find
Reverse circulation and diamond drilling at Hutch's Find produced significant results from a program aimed at understanding geological controls to earlier anomalous results.
Drill hole HFDD4 returned 19 metres @ 2.3 g/t Au from 98 metres and 10 metres @ 5.4g/t Au from 123 metres. Extending the hole produced a further intersection of 0.5 metres @ 17.2g/t Au from 164.3 metres. Follow-up drilling is planned for this prospect.
Camel
RC and DC drilling at Camel was conducted as follow up to previous drilling that had identified mineralisation within a northwest trending sequence of folded dolerite and minor sediments. Two holes were completed for 373 metres to obtain further data on the structural controls of the mineralisation. CMDD2 returned a significant intersection of 7.2 metres @ 3.1g/t Au from 94.8 metres related to quartz veining within fresh dolerite. Further drilling will be conducted to test for extensions to this mineralisation.
Road Runner
Road Runner is located approximately 7 kilometres south of the Western Tanami treatment facility. RC drilling and one diamond hole has been completed at the Road Runner prospect. In total,106 holes for 3,032 metres were completed to increase confidence in the supergene mineralisation previously defined by aircore and limited RC drilling and to further test the interpreted primary lode structures beneath the supergene enrichment zone. A Resource estimate and mine planning work will be completed for Road Runner where a shallow open pit operation is being assessed. Highlight grades returned from this program include:
RRC110 - 2.0m @ 17.2g/t Au
RRC140 - 2.0m @ 12.2g/t Au
RRC130 - 3.0m @ 8.7g/t Au
RRC133 - 3.0m @ 8.3g/t Au
Cuckoo
RC drilling at Cuckoo was designed to bring the near surface mineralisation defined by previous RAB and limited RC drilling up to Indicated Resource status. In total, 32 holes were completed for 1,538 metres which confirmed several plunging zones of gold mineralisation within the folded metasediment-dolerite sequence. Further work is required to define extensions of the mineralisation down-plunge.
Osprey
The Osprey mineralisation is also potentially exploitable by open pit mining and required RC drilling to better define the flat surface zone and test a primary shoot at depth. A total of 21 holes were drilled for 699 metres which returned a signfiicant result of 4 metres grading 15.8g/t Au from 55 metres in hole OSRC20. Further drilling is required to test the down-plunge extent of the high grade hinge zone mineralisation.
REGIONAL AIRCORE PROGRAMS
First-pass regional reconnaissance campaigns of aircore drilling were undertaken at Hermes, Fleegle, Popeye and Olive where in excess of 17,000 metres of drilling was completed in two distinct field programs.
A program of wide spaced drilling has yielded encouraging results with anomalous gold values >20ppb identified from varying depths within bedrock across the northern part of the area.
Drilling at Hermes was also successful and returned anomalous gold results (>20ppb) with coincident arsenic and other pathfinder mineralis in numerous holes.